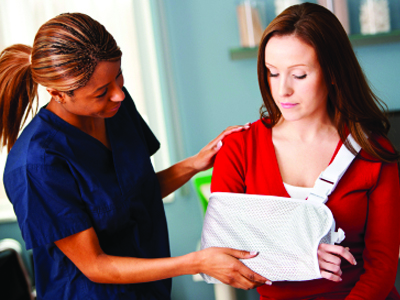 Continued below...
When it comes to compensation claims, many people are confused about how the process works in the UK. As with all matters relating to money, there are plenty of myths surrounding compensation, which undermine the straightforward and simple procedure adopted to deal with these cases.
So, what are three of the most common compensation myths?
1. It is expensive to claim
For many years the differences in the way US and UK courts operated, came down to the way legal fees were paid. Ultimately, many British claimants were discouraged from taking legal action, for fear they would end up with huge bills to pay if they were unsuccessful.
In 1995, conditional agreements were introduced into law for personal injury claims in the UK. This aimed to help open up the legal process to people who might otherwise be deterred by potentially costly court action against someone who may have been responsible for their injury.
The changes meant that what is popularly known as a no-win-no-fee contract became available. This is where a law firm take a case on the basis that they will only charge a fee if they achieve a successful outcome.
2. You can only claim for physical injuries
Many people who are involved in what they feel is a minor incident often don't feel they can justifiably seek compensation and that this action is only for those who are severely injured. Although the kinds of cases that hit the headlines often involve dreadful injuries, the majority of cases deal with injuries on a much smaller scale.
Essentially, anything that is the fault of someone else and which causes you harm can form the basis of a claim. This can be an incident at work, a collision on the roads or even damage sustained whilst in the privacy of your own home.
The ill effects don't have to be physical either, as depression and other psychological illness can often arise after an accident and be as debilitating as any physical ailment. In fact, depression is one of the biggest causes of lost working time in the UK each year.

3. Medical claims only cover gross negligence
Sadly even doctors and nurses make mistakes and get things wrong sometimes. Due to the nature of their work, these errors can be particularly damaging, but that doesn't mean you can only claim in instances where there has been significant fallout as a result of gross negligence.
Medical claims can be for relatively simple and straightforward things, from inadequate dental or cosmetic treatment to more serious errors resulting in brain injury, complications during birth or spinal injuries.
Accidents happen
It is a fact of life that accidents do happen but it is rare that our definition of an accident is actually an unexpected event which could not have been prevented. Most 'accidents' are a direct result of action, or inaction as the case may be, which assigns blame to a particular party.
If you have suffered an illness or injury through circumstances that weren't your fault, then it is vital that you seek financial
compensation
using reputable firms such as InjuryLawyers4U. They have built their reputations around giving impartial advice to people who want to know if they have a basis for a claim and for helping claimants achieve a successful outcome, free from worry.