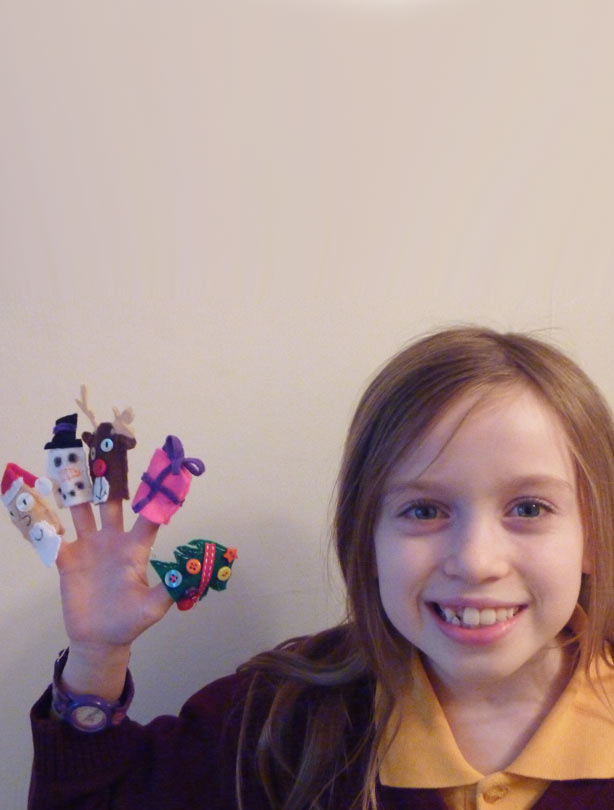 Jenny's Christmas finger puppets
Jenny says:
'You will need: Assorted, coloured squares of felt, matching coloured thread and assorted buttons.'
How t
o make Jenny's finger puppets:
1. For the Father Christmas finger puppet: Fold a square piece of
felt
in half and measure it against your finger to make sure the finished puppet will be wide enough to fit onto your finger.
2. Draw the outline of your required base shape onto the felt i.e. a Father Christmas head shape.
3. Cut the shape out with
scissors
and you will then have 2 felt shapes that match exactly.
4. Cut out extra bits of
felt
for his beard and a hat, then sew these onto one of the felt shapes.
5. Sew
2 buttons
on for the eyes and sew an outline of a mouth and nose using some
black thread
.
6. Now take the 2 matching pieces of felt and use a backstitch to sew the pieces together (with the Father Christmas face at the front) around the outside, with
matching-coloured thread
. Leave the bottom open, so that you can put your finger in.
7. The same steps apply to all of the finger puppets - you can even make up your own designs.
8. You could also attach a loop of
cotton/ribbon
to the top of the puppets and hang them on the Christmas tree.