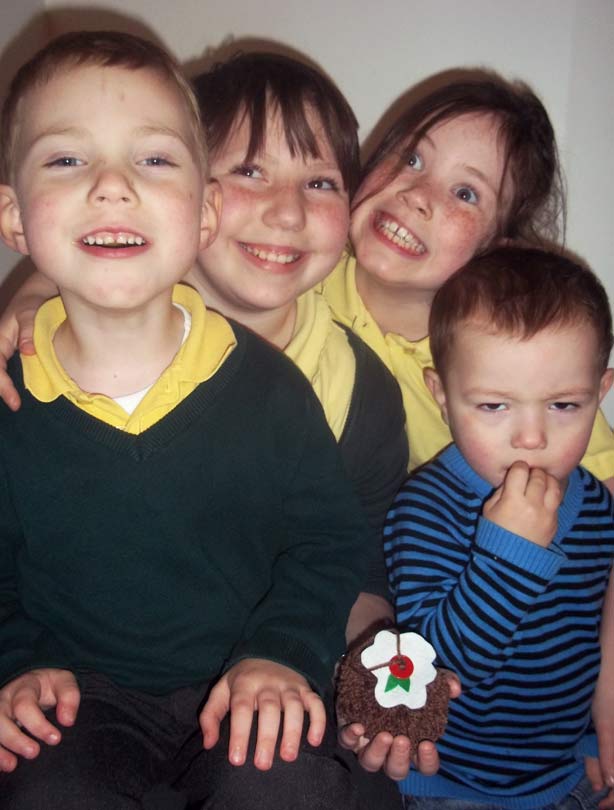 Alexandra Davis' Christmas pudding pom pom
Alexandra says:
'With my 4 children; Elizabeth (10), Francesca (7), Nathaniel (4) and Sebastian (2), I designed some hanging decorations for a Christmas tree.'
How t
o make Alexandra's Christmas pudding pom poms
:
1. To make the pom pom - we put
2 cardboard doughnuts
together and wound
brown wool
around them until the hole in the middle of the doughnut disappeared. This method is easier for small hands but you can also make pom poms on your fingers.
2. Snip the wool around the outside circle with sharp
scissors
- this is a job for adults.
3. Get a long peice of brown wool then tie and knot it tightly around the middle of the pom pom, inbetween the 2 cardboard doughnuts. Save the long tail of wool so you can thread on the Christmas pudding icing, holly and berries.
4. Take the doughnuts off and fluff up the pom pom. You can re-use the cardboard doughnuts to make more pom poms.
5. Next, cut a 'drippy' piece of
white felt
and thread it onto the tail with a darning needle for the icing.
6. Then thread
green wool
or scraps of
green felt
onto the tail for holly leaves.
7. Finally thread on a
red button
(or 2) for the berries and tie a knot in the tail to keep everything in place.