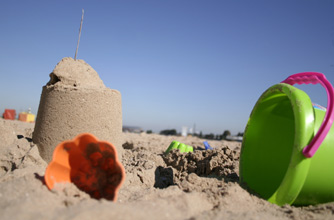 Sandcastle competition
Can't get to the beach this year? Bring the beach home to your kids! This is a great chance to join in with the kids, get messy and have fun.
Great for:
A bit of healthy competition.
You will need:
- 1 Large bag of sand, available for just
2.99 at Argos
- 1 Large plastic bowl
- 1 small plastic bowl
- A plastic ground sheet/several extra large plastic bin liners
- A plastic cup for making miniature sandcastles
- Any old buckets and spades from your last trip to the beach
What to do:
1. Spread the plastic sheet/bin liners over a suitable area of the garden to protect the ground, then sit your kids on. If you have a patio area this may be ideal as it will be easier to sweep up any spilled sand.
2. Pour the sand into the large plastic bowl and water into the smaller bowl.
3. Each child can compete to make the most creative miniature sandcastle.