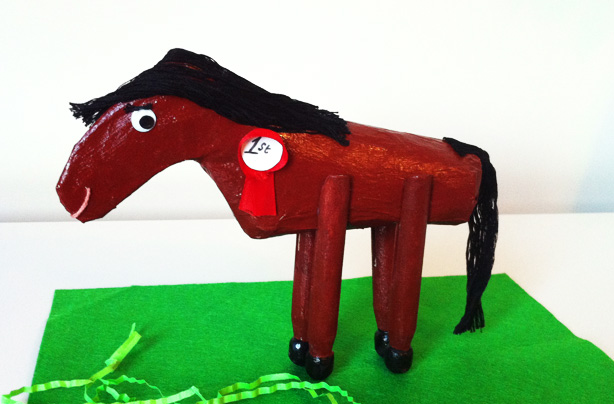 Toilet-roll horse craft
No one will guess this happy horsey is made from toilet roll tubes and wooden pegs.
Age group:
8 years +
What you will need:
2 toilet roll tubes; pencil; scissors; cotton wool balls; Sellotape; newspaper torn into bits; papier mache glue; brown, pink and black paint; 2 googly eyes; black embroidery thread.
How to make a toilet-roll horse:
To make the horse's head, flatten one of the toilet roll tubes, cut a third off the top, then cut out a medium-sized triangle in the middle of the left-hand side (for the horse's chin and neck). Stuff with two or three cotton wool balls and tape the sides together, except for the bottom opening (the horse's neck).

Stuff the other tube, tape up the back end, then slot the horse's neck inside the front end and slant the head up until you're happy with its position. Tape in place.

Papier mache the horse, let it dry, then paint it brown with a pink mouth. Stick on googly eyes and thread for the horse's mane and tail.
Paint the pegs brown with black hooves and while they dry, punch four holes in the bottom of the horse and push a peg through each hole. You could even make a tiny rosette from a circle of card and ribbon.
Safety: Supervise children when using scissors, or do the cutting for them.