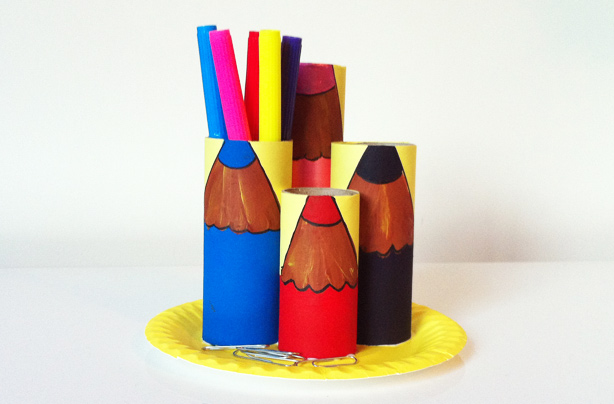 Toilet-roll desk tidy craft
Keep all of their drawing equipment neatly, in this desk tidy that looks like pencils.
Age group:
7 years +
What you will need:
3 toilet roll tubes; 1 kitchen roll tube; scissors; yellow paper; pink, blue, purple, red and brown paint; 1 black marker pen; 1 yellow paper plate.
How to make a toilet-roll desk tidy:
Cut a quarter off the top of one toilet roll tube and the kitchen roll tube.

Wrap each tube in yellow paper and paint each one a different colour, two-thirds of the way up.

Paint a brown triangle shape at the top of each tube, let it dry, then paint on the different-coloured pencil tips.
Use a black marker pen to draw around the pencil tips to make them stand out, then stick all of the tubes onto a yellow paper plate.
Safety: Supervise children when using scissors, or do the cutting for them.