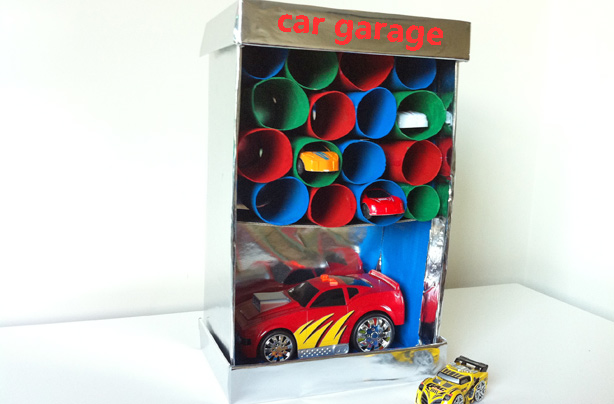 Toilet-roll toy cars garage
This toilet-roll craft is fun to make and it's really useful for storing your child's toy cars in too.
Age group:
6 years +
What you will need:
16 toilet roll tubes; blue, red and green paint; 1 shoe box; silver wrapping paper; scissors; glue.
How to make a toilet-roll toy cars garage:
Paint the toilet roll tubes in your chosen colours.

Take the lid off of the shoe box and cover the outside of the box in silver wrapping paper, using scissors and glue, then paint the inside of the box.

Use the lid to make the roof and bottom ledge by cutting off the ends (each end should measure the same as the height of the shoe box laid flat). Save any leftover lid and cover the lid ends in silver wrapping paper.

Glue the tubes together in rows of four then glue them inside the shoe box. Use the piece of leftover lid to make a shelf under the tubes to keep them in place.
Glue on the roof and bottom ledge and fill your garage up with cars. You could also personalise it by spelling out your name in alphabet stickers.
Safety: Supervise children when using scissors, or do the cutting for them.