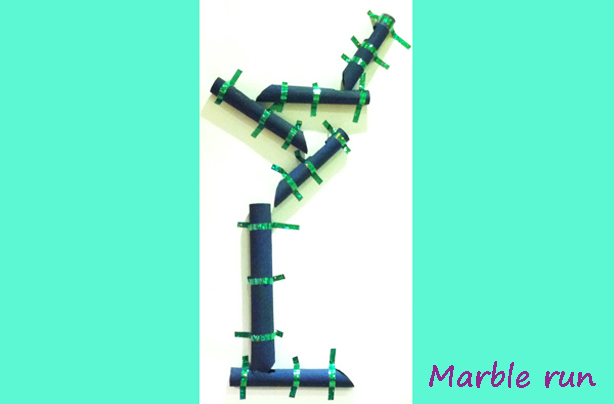 Toilet-roll marble run craft
Drop a marble in the top of this colourful marble run, made from cardboard tubes, and watch it zoom all the way down.
Age group:
6 years +
What you will need:
6 long cardboard tubes; scissors; purple paint; leftover wallpaper; green holographic tape; marbles.
How to make a toilet-roll marble run:
Cut one end of each cardboard tube into a spout shape, using scissors.

At the other end of each tube, cut out a large hole in the top, at least twice as wide as the marbles you're using.

Paint the inside and outside of each tube.

Arrange the tubes how you like, on some leftover wallpaper, making sure each spout lines up with the hole of the next tube, so the marble can drop in and run on freely down the marble run.

Glue and tape down the tubes, using coloured tape.
Hang your marble run securely on the wall, then drop a marble in the top hole and watch it roll all the way to the end spout.
Safety: Supervise children when using scissors, or do the cutting for them. Don't allow children to put marbles in their mouths.