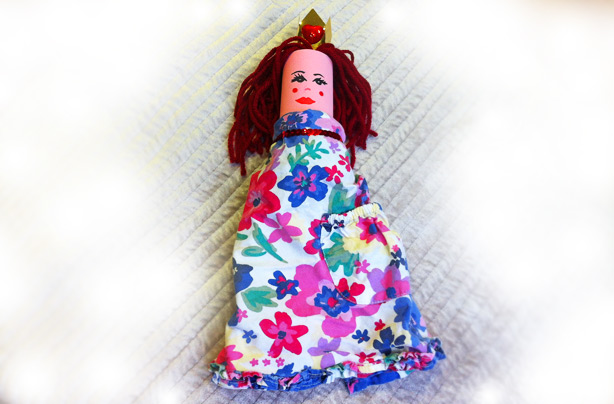 Toilet-roll princess puppet craft
This beautiful princess puppet is easy enough for little ones to do and makes use of any old material and wool you have lying around.
Age group:
4 years +
What you will need:
1 toilet roll tube; skin-coloured paint; black and red felt-tip pens; a square of old material; rubber band; hair-coloured wool; glue; gold card; scissors.
How to make a toilet-roll princess puppet:
Paint the toilet roll tube with skin-coloured paint and when it's dry, draw on the princess's face at the top, using felt-tip pens.

Turn the princess's head upside down and with the material pattern facing down, wrap it around the tube so most of the material hangs down, then tie a rubber band halfway up the tube to keep it in place.

Turn the princess the right way around, pull the material right down and the princess has a pretty dress.

Spread glue just inside the top of the tube and stick the wool on for the princess's hair.
Make a crown from gold card and decorate your princess puppet with gems and sequins.
Safety: Supervise children when using scissors, or do the cutting for them. Don't allow children to put gems in their mouths.