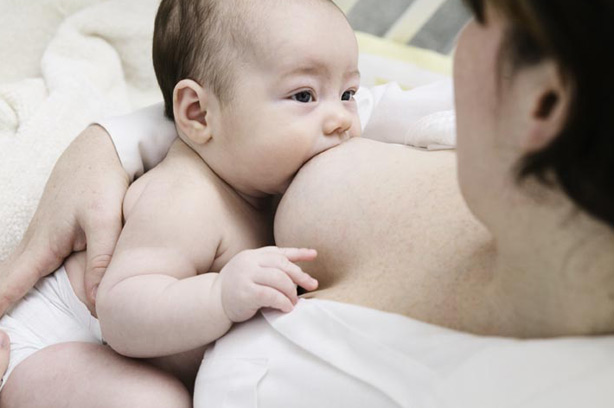 From subtle ways to breastfeed in public, to advice on babies who go off their favourite tipple, here's how to get the best from breast, bottle or beaker.
Decent exposure
You may feel uncomfortable breastfeeding in public but, on the other hand, no one wants to be under house arrest for their baby's first six months!
Where can you and can't you breastfeed? A recent law passed in Scotland means that mums can breastfeed anywhere you'd expect to see young children. This includes shops, museums, leisure centres, parks and many more other places. But no such law exists in the rest of the UK. It takes a hard heart to deny a baby his lunch, but one or two mums have been asked to stop breastfeeding. This is extremely rare though.
Time and place
Choose your spot carefully. Are you going to be able to sit quietly for the full feed? A comfy café when you've just ordered a big drink is good; a short trip on a busy bus isn't. Baby comes first, obviously, but also think about people around you. The older generation may be uncomfortable if you feed nearby, while a group of teenage boys may think Christmas has come early!
For privacy, turn your chair or body away from the main room. It's surprisingly effective. And a casually draped blanket or coat makes a feed look like a gentle cuddle.
Gearing up
If you open your drawers only to realise that all your tops need to be wrenched over your head before your baby can access lunch, you could invest in a few specially designed tops that have discreet flaps built into their design. Check out
the NCT
,
Blooming Marvellous
and
JoJo Maman Bebe
for breastfeeding tips.
Like many things with a new baby, breastfeeding in public takes practice. Try positions and outfits at home. And don't be afraid to ask waitresses and store assistants if there's somewhere private where you can sit for 20 minutes. You'll find that most will fall over themselves to help.
- Next: Find out how to get babies from breast to bottle
Continued below...
More help and advice
- More advice on coping after the birth
- Breastfeeding myths busted
- I panicked when my baby stopped breastfeeding!' Read one new mum's experience