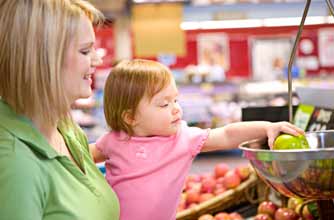 Toddlers can be a handful at the best of times. If you're tearing your hair out and need some ideas for how to keep them busy, look no further...
1.
Let your tot help with the washing. Show her how to sort the coloureds from the whites, and then let her stuff them into the machine.
2.
Turn the living room into a cinema! Put dolls and teddies on a row of chairs. Take money for tickets, then show a DVD. An interval with a chance to buy a snack is popular!
3.
If you've got a lot of washing up to do. Get out her plastic tea-set, a bowl of soapy water and a tea-towel to put it all on. Then let her wash up on the kitchen floor whilst you do yours.
4.
If it's a cold day, put some sand from the sand-pit in a washing-up bowl and hide mini treasures. A spoon makes a good-sized spade and a sieve's fun, too.
5.
Create with playdough. Give your toddler shaped biscuit cutters and a rolling-pin and show her how to cut out 'biscuits'. A garlic press is fun for making squiggly bits.
6.
Use a packet of coloured sweets such as Smarties to play a sorting game. Sift the different colours into separate bowls.
7.
Dig out a basket of old 'baby' toys. She'll be keen to play with them, as she hasn't seen them for a while.
8.
Put on some music and have a dance. Book/CD combinations such as The Animal Boogie (from Barefoot books) are great standbys for beating boredom! Look at the colourful pictures together, then get up and join in the dance.
9.
While you're wrapping presents, let her play with some shiny paper - the more crinkly and sparkly, the longer it'll keep her occupied
10.
. Make a photo album together. Find some family shots and a notebook and help your toddler glue the pictures in.