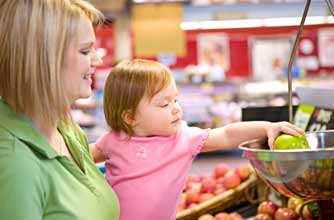 Toddlers can be a handful at the best of times. If you're tearing your hair out and need some ideas for how to keep them busy, look no further...

1. Let your tot help with the washing. Show her how to sort the coloureds from the whites, and then let her stuff them into the machine.

2. Turn the living room into a cinema! Put dolls and teddies on a row of chairs. Take money for tickets, then show a DVD. An interval with a chance to buy a snack is popular!

3. If you've got a lot of washing up to do. Get out her plastic tea-set, a bowl of soapy water and a tea-towel to put it all on. Then let her wash up on the kitchen floor whilst you do yours.

4. If it's a cold day, put some sand from the sand-pit in a washing-up bowl and hide mini treasures. A spoon makes a good-sized spade and a sieve's fun, too.

5. Create with playdough. Give your toddler shaped biscuit cutters and a rolling-pin and show her how to cut out 'biscuits'. A garlic press is fun for making squiggly bits.

6. Use a packet of coloured sweets such as Smarties to play a sorting game. Sift the different colours into separate bowls.

7. Dig out a basket of old 'baby' toys. She'll be keen to play with them, as she hasn't seen them for a while.

8. Put on some music and have a dance. Book/CD combinations such as The Animal Boogie (from Barefoot books) are great standbys for beating boredom! Look at the colourful pictures together, then get up and join in the dance.

9. While you're wrapping presents, let her play with some shiny paper - the more crinkly and sparkly, the longer it'll keep her occupied

10.. Make a photo album together. Find some family shots and a notebook and help your toddler glue the pictures in.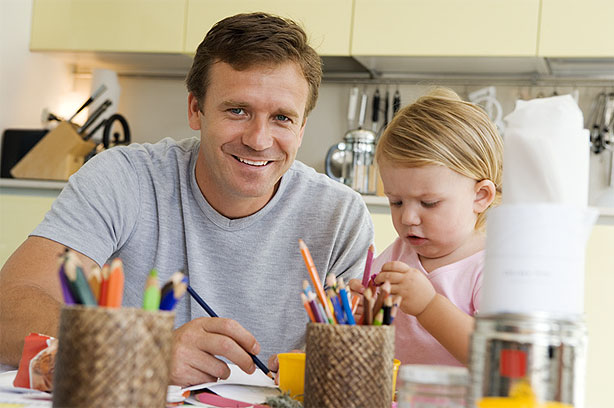 11. Do some magic painting! Draw a simple design on paper with a white candle or crayon. Make up watery paint in a strong colour and let your tot paint the paper to reveal the lovely designs - she'll be amazed.
12. Play 'Follow my leader'. Your toddler has to copy everything you do. Jump up and down, pat your tummy, sit down, stand up, walk up stairs, put your slippers on your head. The sillier the better. Once she's got the idea, let her lead you.
13. Trace a toddler using an old roll of lining wallpaper. Get your child to lie on it and trace her outline! Then let her colour or paint it (if you're feeling brave!).
14. Read some stories together - the more you read, the more your child will get interested in books. Doing funny voices will make it even more fun.
15. Put on some tunes and play musical bumps. Tell her she has to sit down as quickly as possible when the music stops.
16. Make a letterbox! Cover an old cereal box in red paint or paper. Cut out a slot for letters and make pretend envelopes. Your child can write on the envelopes, stick on pretend stamps and post them.
17. Dig out your old home videos. She'll love it if there are people she knows - more fun than watching endless Postman Pats!
18. Go to the park. Take a ball or a ride-along toy. You might find other mums to chat to.
19. Make up thick poster paint, then paint your toddler's hands. Get her to make handprints all over some paper. When they're dry you can make a special birthday card with them.
20. Slice some potatoes in half and cut stars and other shapes into each flat surface. Dip the potatoes into saucers of poster paint and let your toddler use them for printing.
21. Make a collage. Toddlers like sticking things. Use sweet wrappers, scraps of material, foil, cotton wool - anything really!
22. Make cakes. Your toddler will love stirring the mixture and make sure you tell everyone very loudly what a great help she's been!
23. Give her dried pasta, a sieve, bowl and plastic jug.
24. Have a dolls' tea party. Use a picnic rug and real food.
25. Make a mask. Draw an animal's face on card and cut holes for eyes. Cut out some ears and stick them on the top. Let her colour it, then attach a straw so she can hold it in front of her.
26. Save the packaging. If anyone in your family gets given a large present, keep the box. It's true that at this age, they are often more fun to play with than the gift inside.