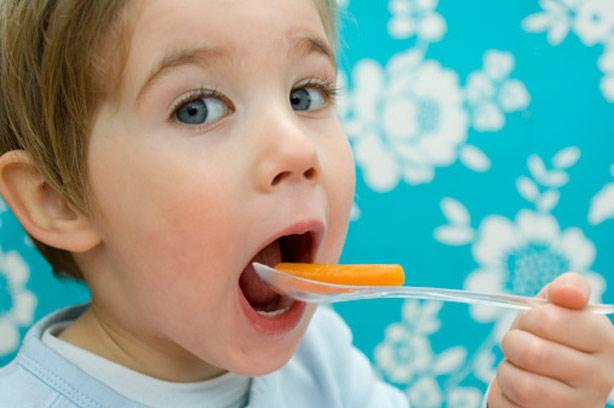 It becomes more difficult to predict exactly how much your child's consuming as he gets older. Teething, faddy eating, routine illnesses and stubbornness can all create a temporary hunger strike. At times it may seem as though he's barely eaten for days. But if he's bright, alert, active and happy, with regular wet and dirty nappies, he's probably getting enough.


Continued below...
While measuring portions for older babies and toddlers is far from an exact science, get him to eat and drink some of the following once a day to ensure steady growth:
3-4 portions of carbohydrate (bread, potatoes and pasta)
3-4 portions of fruit and veg
2 portions of protein (meat, fish, beans, lentils and eggs)
Several dairy, or dairy equivalent, portions (full-fat cows' milk, cheese and yogurt)
He should also have 500ml (18fl oz) of milk a day. This can be in the form of yogurt and cheese, as well as drinks. Avoid giving him sweets and sugary drinks. They do cause weight gain but don't have vital vitamins and minerals. Plus, they cause
tooth decay
. Don't give him crisps, either, as they're high in salt and low in anything your child actually needs.