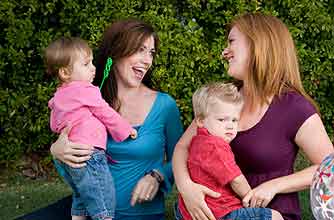 If you missed out on classes or were in and out of hospital too fast to collect phone numbers don't worry, there are lots of ways you can find other mums. Most local councils provide details of parent and baby groups, and of activities and play facilities available to very young children. You should find all the details on your local council website.
Check what's on offer from your GP or health visitor. As well as regular baby clinics, you'll probably be invited to a postnatal group. These weekly sessions are an opportunity for you to meet mums, but also cover important subjects such as baby resuscitation techniques and weaning. It's also worth tracking down your local National Childbirth Trust (NCT) branch.
Without being a member, you and your baby can attend weekly Bumps and Babies coffee mornings, seek the advice of breastfeeding counsellors and take part in a range of social events. The NCT also runs various discussion groups and courses that give you the chance to talk freely about being a mum and share your experiences.
Join the party
Your baby enjoys a change of scene as much as you. From a young age children start taking in their surroundings and, like us, they appreciate going out, being active and socialising. Through this stimulation they begin to learn about the world around them and start working out how they fit into it.
Do your own thing
If your first visit to a mother and baby group isn't a very positive experience, don't be put off. Not all groups are the same. Visit others in your area until you find one that feels right.
Alternatively, if it's great for your child but you feel like an outsider in a well-established group of mums, there are ways you can break through. Ask the group's organiser to 'buddy' you up with parents who have children a similar age to yours; or, when the group breaks for a drink, ask the mum nearest to you how she found weaning or at what age her baby started sleeping through the night. Every mum will have an answer to these baby questions and it will help conversation along.
Continued below...
But if this kind of structured get-together really isn't for you, there are other ways to have fun with your child and still build your network. Most pools offer family swimming sessions or classes for children accompanied by a parent. Take up baby massage or mother and baby yoga for a therapeutic approach. Your local library is bound to run sing-along sessions or regular storytelling times.