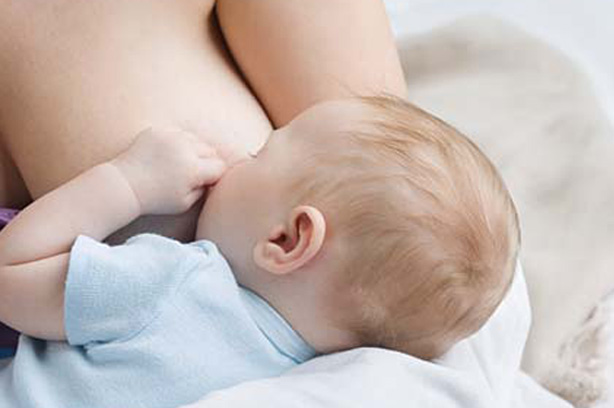 Feeding can be daunting, too. One of the things
breastfeeding
mums worry about is that they're producing too much milk. Some are tempted to catch the excess in special shells in their bra, then store it. But this can start a chicken and egg reaction. If used all the time, the shells may be stimulating the breast to produce more milk than the baby's demanding. The more a mum produces, the more she needs to catch the excess, and so on. The solution is to stop using the shells and go back to breast pads. Within a few days, supply will reduce to meet demand more comfortably.
Another source of concern is whether to wake the baby for her feed. Mum Tina says: 'My baby's 5 weeks old and is gaining weight, but often won't feed for six hours. Should I wake her to feed her?'
The answer is that breastfeeding on demand is the most effective way to keep doing it successfully. At the start, breastfed babies feed around 8-12 times in 24 hours. As they grow, their tummies get bigger and can hold greater quantities for longer. This change causes your breastmilk to adapt as well. It's a fine balance, but it can be mastered. So enjoy the longer periods. It may change again when your baby has her next growth spurt and feeds get closer together for a few days.
Bottle feeding
can be confusing, too. Mums are now advised to make up their baby's formula milk bottles individually each time they need a feed. Previously, pre-prepared batches could be stored in the fridge over 24 hours. The changes have been introduced to help reduce rare but specific infections of the gut that can occur in formula-fed babies. The guidelines now state that:
Feeds should be made up with boiled water that's more than 70ºC. This means using water that's been left to cool for no more half an hour;
Cool freshly prepared bottles under a cold running tap, with the cap covering the teat;
Make bottles up fresh for each feed - storing made-up formula may increase the chance of a baby becoming ill and should be avoided;
Throw away left-over milk;
If you need a feed for later, keep water you've just boiled in a sealed flask and make up fresh formula when needed.
- Possible problems: Crying
- Possible problems: Teething- Possible problems: Tummy time
Continued below...
More help and advice
-
Breast or bottle?
-
What to do if you think you've got post-natal depression
-
What to expect in the first few days and weeks