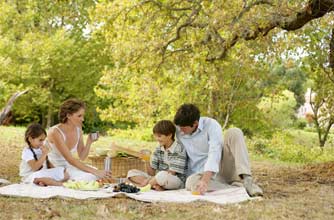 Step-families
When two families combine, it's good to take a softly-softly approach. It's understandable that you each want the transition to be seamless and quick, but rushing things is more likely to create disharmony.
'It's simpler to integrate families where the children are of pre-school age, as very young kids will usually muddle along quite well so long as they feel that everyone else is happy,' says Bill Lucas.
For building happiness in integrated families, Bill suggests:
Never try to take the role of the missing parent when interacting with new step-kids. Introduce yourself by first name and don't take hostility or indifference personally.
Keep first outings together simple and unstructured. A picnic in the park has a more natural and relaxed atmosphere than a major outing to a theme park, for instance. The idea is to have a happy time that ends too soon, rather than an over-ambitious trip that stretches everyone.
Remember, most kids in the early stages of a separation will ideally want their natural parents to get back together, so avoid presenting yourself and your own kids, if you have any, as an alternative family.
Continued below...
Single-parent families
If you're a lone parent, some key factors for a happy family and a happy you include:
Instilling the positive idea that your family situation isn't second best and that every family is special and important in its own right.
Having a good support network so you can get some time to yourself. 'You need to have people around you who can help provide some of the things that a partner would provide,' says Bill.
Keeping your family happy and secure by setting up reliable and consistent childcare so your kids get used to the pattern of who's looking after them and when. Kids thrive on routine and adapt quickly, so long as they know what to expect, wherever possible.