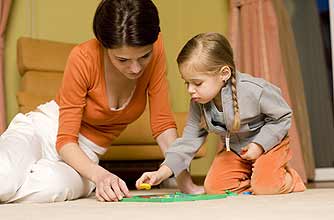 1. Have time
Be generous with time for your kids, both one-to-one and as a group: 'You have to give more of your own personal time than you take,' says Bill Lucas.
2. Be emotional
Express your feelings so it becomes natural for your kids to do so, too: It'll teach them that they have some control over situations and consequences.
'Touching is also incredibly important,' says Bill, 'and making it a regular part of your interactions as a family is very nurturing, as is talking about your love for each other.'
3. Stop and relax
Press the 'pause' button. In other words, count to 10, take a deep breath and stop the flow when one of you starts to lose your cool. Ask yourself if you're being reasonable, or could you take a more positive line? Teach your kids to do this, too.
4. Keep rules and limits consistent
This requires a good line of communication between both parents and all adults who care for your kids. As long as you agree the boundaries, however broad they might be, and stick to your guns, your kids will learn to respect and act on them.
5.
Be a little selfish. It's important to be able to express yourselves as a couple and as individuals as well as parents, so take regular time out for independent enjoyment.
6. Do things together
Eat together and enjoy activities as a family whenever you can. Switch off the TV and make lots of opportunities for conversation. Include babies and toddlers in this ritual.
7. Learn from mistakes
When things go wrong, backtrack to work out why. If, for example, breakfast is always a mad rush and you end up late for pre-school or nursery, ask yourself if the children are getting enough sleep, whether everyone's too dependent on one person to get things organised, or whether you need a better routine in the mornings.
Continued below...
Where to next?
-
Your story: 'We were worried our older child wouldn't accept a new baby'
-
Introducing children to your new partner
-
What to do if your child bites or kicks