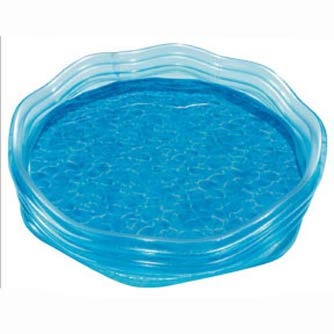 Paddling pools
Although parents generally know that they need to constantly supervise young children in water, accidents tend to happen after the pool's been used. 'Between the ages of 1 and 2, an infant's mobility increases at a terrific but irregular rate, such that she can escape parents' supervision and get into difficulties unexpectedly fast,' says a spokesperson from the Royal Society for the Prevention of Accidents. 'So paddling pools should always be emptied and turned upside down straight after use.'
Three reasons to think twice before you take your child swimming
*She has a bit of a cold:
Current advice is that babies with even mild upper respiratory conditions should avoid public pools.
*She has sensitive skin or eczema:
Some people's eczema is made worse by the chlorine in swimming pools. The British Association of Dermatologists suggests you rinse your child's skin well in the shower afterwards and apply an emollient cream immediately after towelling dry to 'trap' moisture into your child's skin. Alternatively, look for a pool that uses another disinfectant method, such as Ozone.
*She has a cut or sore:
If your baby, tot or older child has a cut or open sore, they shouldn't go in public pools.
Further information
For more information, contact the Amateur Swimming Association (01509 618700; britishswimming.org) or the Royal Society for the Prevention of Accidents (rospa.com/waterandleisuresafety/index.htm).
If you're heading for the beach, get in touch with RNLI Beach Lifeguards (01202 663553; beachlifeguards.org.uk) or check out the Marine Conservation Society's Good Beach Guide (goodbeachguide.co.uk).
Continued below...
For details of local swimming pools, log on to the Active Places website (activeplaces.com).