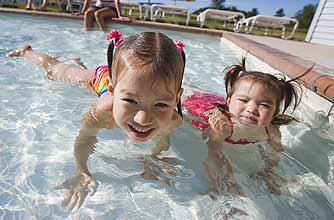 Continued below...
Always check the qualifications of the swimming teachers to ensure they hold a specialist ASA qualification for water activities for children under the age of 5.
Constant supervision is essential. Although drownings in pools are rare, evidence suggests that toddlers are the most vulnerable. It's not sufficient to rely on the supervision of the lifeguard at the poolside.
Have a talk with your child before you get to the pool to make sure she knows that she mustn't run about at the edge of the pool.
Fit support or buoyancy aids before she gets in the water, and if you use armbands make sure they can't slide off and are on the upper arm only. All buoyancy aids should meet safety standards, look for British Safety number BS EN 13138:2003.
Children with long hair should have it tied back and preferably be wearing a swimming cap. In some tragic cases, a child's hair has got caught in sumps, trapping her under the water. For the same reason, remove all jewellery.
Don't let your kids chew gum or eat while in the pool area.