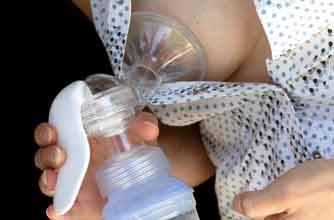 There's such a choice of baby products out there, we've tested some for you so you can make the best choice. Here, we review some leading brand breast pumps
The great thing about the Tommee Tippee Closer to Nature Freedom Pump is that there are only three parts to put together, so it's easy to use. It comes with a manual breast pump, 5oz bottle and teat and breast pads, all in a Steri box for steam sterilising in the microwave, plus a breastfeeding guide.The Steri box is fantastic and very useful for sterilising anything. This is a great buy at £24.99.
Polly, mum to Marcus, 4 months
Stockists 0500 97 98 99;
www.tommeetippee.co.uk
.
I get on really well with my Bruin battery-operated feeding system and feel very proud of myself. The first time I used it, I got 1oz of milk from each breast but now I can express a bottle a day if I need to. It's compact and light, so fits in a changing bag, and it fits standard and wide-necked bottles. It cost £19.99, really good value.
Annie, mum to Sara, 6 weeks
Stockists 0845 786 9778;
www.babiesrus.co.uk
.
The Medela Pump In Style Advanced Pump looks complicated, but has great instructions. The speed can be altered to mimic the baby's feeding rhythm to help with faster let-down and higher milk yield. The backpack makes it great to transport. It's quite expensive at £195, but the pump is hospital-grade and it comes with a double-pumping accessory kit as well as the backpack, manual breastpump kit, cooler pack, battery pack, 4 containers and a mains adaptor.
Andrea, mum to Georgie, 4 months
Stockists 0870 389 5576;
www.expressyourselfmums.co.uk
.
I love my Lindam breast pump. It's the first time I've successfully expressed milk, even though it's my third baby. Once the milk began to flow, I got 4oz in five minutes. It's easy to set up and clean and simple to use with one hand. My battery-operated one cost £24.99 and came with a feeding bottle, accessories, nipple stimulator and trainer cup. You can get a mains adapter too if you prefer that to batteries.
Continued below...
Alex, mum to Martha, 6 weeks
Stockists 08701 118118;
www.lindam.co.uk
.