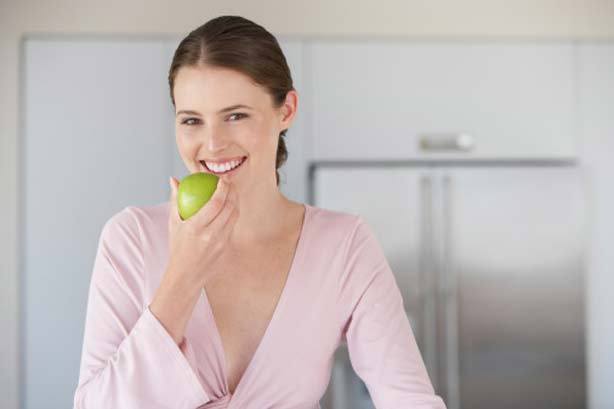 Day 4 to 7 of Nutritionist Victoria Greaves' superfood pregnancy diet meal plan, includes delicious minestrone
soup
,
fish
kebabs and energy-boosting snack ideas.
The superfood pregnancy diet meal plan
Day 4
Breakfast:
Omelette with mushrooms, tomatoes, onion and garlic
Lunch:
Stir-fried vegetables and tofu served with wholewheat noodles
Dinner:
Salmon and monkfish kebabs with quinoa (or brown rice) and steamed spinach
Day 5
Breakfast:
Tinned sardines in tomato sauce on wholemeal or rye toast
Lunch:
Pitta filled with sliced organic chicken breast, red pepper, avocado, lettuce and tomato
Dinner:
Large bowl of minestrone soup served with wholemeal pasta twirls
Day 6
Breakfast:
Millet flakes with milk, plus fresh fruit salad with natural yogurt
Lunch:
Baked sweet potato with grated cheddar, hummus and mixed salad
Dinner:
Fish pie with mashed potato topping served with carrots and peas
Day 7
Breakfast:
Poached eggs with grilled tomatoes, mushrooms and baked beans
Lunch:
Grilled trout with a salad of tomatoes, watercress and sunflower seeds
Dinner:
Whole guinea fowl casserole with a selection of winter veg
Snack Attack
Here are some healthy ideas for snacks and drinks to help keep your energy up:
Fruit: eat three items a day
A small pot of natural yogurt, a few cubes of Cheddar cheese or a handful of almonds
Seeds, raisins, fresh nuts and oatcakes
Keep chopped raw veg (carrot, radish, pepper, tomato) in the fridge to eat with hummus or guacamole
Filtered water
Herbal or fruit teas
Diluted fruit juices
Vegetable juices
What did you eat when you were pregnant? Tell us in our
Forums
Continued below...
Where to next?
Eat to get pregnant
Antenatal exercises
More on pregnancy