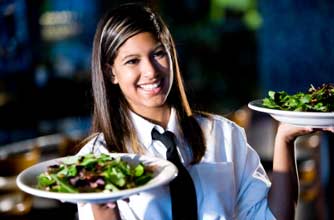 Is your teen thinking of getting a part-time job over the summer? It'll be a great way for them to earn some money, meet new people and make sure they don't waste their summer sat in front of the TV!

But before they get a job there are a few things they need to consider - here we explain how they can find work and what the law says.
Should they get a job?
As well as earning some money for themselves, any job will teach your teen some new skills. It could also help them to get a job in the future, as it will show commitment and could provide references. Your teen will also start to learn more about the value of money, as they realise how long it takes them to earn the money they need to spend on clothes, days out and more.
However, before your teen gets a job, they need to consider how much it will affect their school work. Many teens will even have coursework to complete during school holidays, so they'll need to decide how much time they can dedicate to a job.
Julia Hollingsworth, head of year 13 at Kingsbury High, London, said: 'Saturday jobs give youngsters a boost of self-esteem. In part that's to do with mixing with adults. Also, they gain the independence of having their own money, plus the responsibility of timekeeping and being part of a team.'
Most sixth-formers at Julia's school have part-time jobs. 'I recommend one day at the weekend and a maximum of two evenings. In the summer exam term they should cut their hours. One boy was working 21 hours a week. On top of school and three hours of homework a night, that's too much.'
We asked you on
Facebook
what you think about teens having jobs, and you had different opinions:
Danielle said: 'I had a few jobs while I was still at school: A pet shop and a hairdresser's at the weekend when I was 15 and then weekends at Debenhams when I turned 16. It was brilliant because I earned some extra money for myself and gained real-life experience. I still gained excellent exam results too. My daughter is very young but when she's old enough I'll encourage her to do the same!'
However, Hannah disagreed: 'While it's a good idea and great for life skills, the amount of homework they get at school means that along with a job, they'd have no time to enjoy being a teenager (and wouldn't we all like to have that time back!) My friends and I all got jobs as we finished our GCSEs. Other than paper rounds and babysitting, let them be till they're 16.'
What do you think? Let us know by leaving a comment in the box below or tell us on Facebook
How to help them find work
Shops, bars, restaurants and supermarkets often take on young people as staff. One of the best ways for a teen to find work is just to go into a few places with their CV. Although most places won't have vacancies straight away, they might keep their CV on file and offer them work in the future.
For teens who are in sixth form or college, there might be a jobs board that they could check for work.
They could also check the government website's
job search page
.
Continued below...
Your teen could also ask around the neighbourhood to see if anyone needs a babysitter or needs any other jobs doing (such as gardening or car washing).