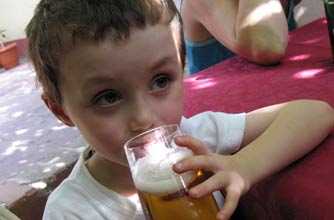 As a parent, you decide what you think is acceptable for your child to drink in the home between the ages of five and 16. Otherwise:
Under five years old
It is illegal to give an alcoholic drink to a child under five except under medical supervision in an emergency.
Under 16s
Children under 16 can go anywhere in a pub or bar as long as they are supervised by an adult, but can't have any alcoholic drinks. Some premises may be subject to licensing conditions preventing children from entering.
16 or 17 years old
16 or 17 year olds can drink beer, wine or cider with a meal if an adult buys it and an adult accompanies them. It is illegal for this age group to drink spirits in pubs even with a meal. In Scotland, 16 and 17 year-olds can buy beer, wine or cider as long as it's served with a meal and drunk in an eating area.
Under 18 years old
It is against the law for anyone under 18 to buy alcohol in a pub, off-licence, supermarket or elsewhere, or for anyone to buy alcohol for someone under 18 to drink in a pub or a public place. Some towns and cities have local by-laws banning drinking alcohol in public.
Need more help?
Talk to Frank
advice for young people and their parents about alcohol and drugs.
Call FRANK on 0800 776600 or go to
talktofrank.com
The Know Your Limits campaign
gives advice on alcohol and safe drinking for young people.
Call the 24-hour helpline free on 0800 917 8282 for advice and information
knowyourlimits.gov.uk
Alcoholics Anonymous UK
Helpline: 0845 769 7555 Website:
alcoholics-anonymous.org.uk
wrecked.co.uk
gives advice on young people and alcohol
Al-Anon Family Groups
England: 020 7403 0888
Scotland: 0141 339 8884
Northern Ireland: 028 9068 2368
al-anonuk.org.uk
Alcohol Concern
Tel: 020 7264 0510 Website:
alcoholconcern.org.uk
Continued below...
Where to next?
-
What's your teenager up to this weekend?
-
Your story: 'I noticed beer and wine going missing'