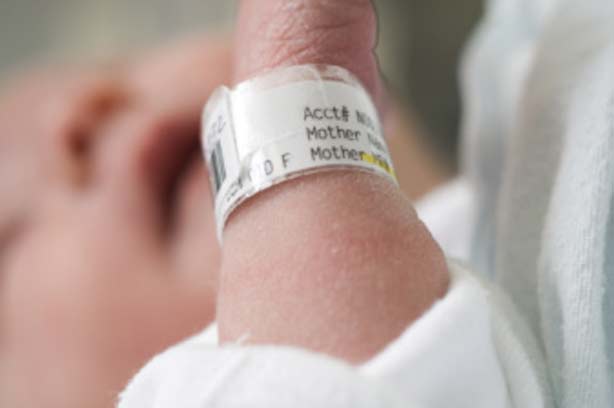 Legally, all births have to be registered within 6 weeks of a baby being born in the UK. Here, we explain exactly how to register a birth, including who can register, and the details you'll need to take with you.


The Kate effect
There are lots of reasons why someone might put off registering a birth, mainly because they're so busy with the new baby, or it may have slipped their mind. But it seems that there's a whole new excuse this year - royal baby fever! New mums who have recently had a baby are delaying registering their baby's birth as they wait to see what Kate and Wills are going to call their royal bundle of joy first.

According to a recent survey, 42% of new mums would wait for the Duchess (pictured) to name her baby before naming their own.
It seems that no matter what Kate and Wills decide to call their little one, hundreds are sure to follow. And we're pretty sure there will be a fair few who are determined not to follow, by checking that their baby doesn't share the same name as the royal baby.


What does it involve?
The health authority or hospital where your baby was born will notify the registrar of your baby's birth. You then have to register it yourself.
You can register the birth at any Register Office, although it may take a few days longer to process if you go to one in a different district to where your baby was born.
Registration of births in England and Wales is handled by the General Register Office (GRO). Scotland and Northern Ireland have their own General Register Offices. They are based in the local council (or London or Metropolitan borough) office. To find your nearest, go to the General Register website gro.gov.uk or look in the phone book.
Some hospitals have facilities for registering your baby's birth before you leave. So if you've had your baby in hospital, do ask.
Who can register the birth?
If you were married when your baby was born or conceived, either you or your partner can register the birth. If you're not married and want the father's details on the register, then you will both have to go and sign the birth register together, or show a declaration of the father's paternity (you can get this form from the registrar).

Most parents register their child's birth, but sometimes neither the mother nor father can attend. In this case, registration can be done by:

the occupier of the house or hospital where your child was born
someone who was present at the birth
or someone who is responsible for the child
What details will they need?
*You don't need to take anything with you, although your hospital discharge details will help.
The registrar will need your baby's date and place of birth (and the time of birth if you had twins or triplets), his or her sex, and their full name.
You also need to tell them the forename(s) and surname you have chosen for your baby.
The registrar will also need your details: your name, address, occupation, date and place of birth and maiden name, if you are married. Also, the date of the wedding if you were married to the baby's father at the time of your baby's birth and how many other children you've had. You'll also need to give the father's details if he is to be included on the certificate.
After you and the registrar have read through the document, you both sign it
It's really important that all the information you give is accurate before it is signed. If mistakes are made, you will have an opportunity to correct them in the future, but it can take time.
What about the birth certificate?
You can have two types of birth certificate that the registrar will give you. The short version that contains only your baby's details is free. The full version also contains all of your details and costs from £8.50 to £11.50. You can buy extra copies at any time and can order certificates by post or online.
Further information from the General Register Office on 0151 471 4805 or on the website, below.
Continued below...
More information from the General Register website
gro.gov.uk
Where to next?
- How the month your baby's born affects their life