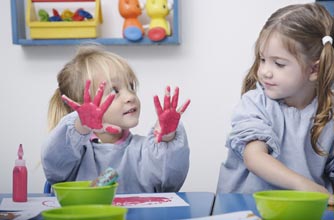 At Steiner nurseries, children are at the centre of their own learning process and creativity is highly valued with this style of nursery education. For example, children bake their own bread and use movement to music as a means of exploring the world around them. Cognitive, social, emotional and physical skills are valued equally, and teaching is done by example, not instruction.
The child leads the learning process, allowing her to come to know the world through active feeling, touching, exploring and imitating. She's encouraged to master physical skills before abstract intellectual ones, such as reading and writing, which aren't usually introduced until a child is over 6.
There are more than 100 nurseries throughout the country accredited by the Steiner Fellowship. Accredited Steiner nurseries (sometimes called Steiner Waldorf) take children until the age of 6. Many more nurseries operate on the Steiner method but aren?t fully accredited because the children leave to attend mainstream schools at 5. These are recognised as Steiner Interest Groups.
Continued below...
'Every day some time is dedicated to free creative play,' says Janni Nicol, of the Steiner Waldorf Schools Fellowship. 'Studies show that children who play well are more empathic and are less aggressive. Through play, children are able to exercise and strengthen their ability to understand, think and develop concentration.'