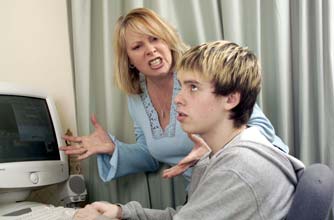 If the school has tried to deal with the problem, but your child persists in truanting:
you may be served with a Parenting Order, a court order that says you have to attend a parenting programme and comply with orders about your child's attendance or behaviour. Don't be put off by this. It may sound scary, but this will really help you to deal with your child's behaviour. The courts may also impose an Education Supervision Order where your Local Education Authoiry(LEA) can tell you what to do to make sure your child is properly educated.
you may be fined
in extreme cases you may receive a jail sentence if the authorities don't feel you are co-operating, or haven't done enough to try to get your child to school.
Need more help?
You'll find your
Local Education Authority (LEA)
details in your phone book.
Ace, the Advisory Centre for Education
can offer guidance and advice.
Advice line (Mon-Fri 10am-5pm): 0808 800 5793; Exclusion advice line (Mon-Fri 10am-5pm): 0808 800 0327
Parentline
gives advice to parents or can put you in touch with other parents. Ring on 0808 800 2222
Continued below...
More help and advice
-
Top tips for coping with exams
-
How to help your stressed teen
-
Advice on talking to your teen