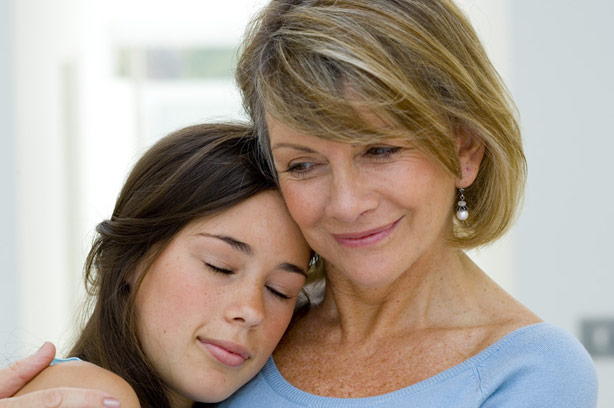 3. Be patient
Your child is bound to be more worldy-wise than you were. Sex is everywhere these days. It's on TV, in music and videos and it's used to sell everything from chocolate to spot creams. Our children are known as the 'growing older, younger' generation by ad agencies so it's hardly surprising they want perfume and aftershave rather than Lego. Peer pressure has a big impact on them too, so if all their mates are 'dating', they'll want to as well.
Puberty seems to be starting earlier, it's not unusual for a girl to start her periods while she's still in primary school, so your child may be starting to have sexual feelings far earlier than you or your partner did. Reassure them that those feelings are all part of growing up. But no matter how adult they appear, they are still a child and should be treated as one.
Tip:
Stay calm. Boost your child's confidence by complimenting them, not only on their looks, but also on their character and intelligence. Ignore what you can of more immature, attention-seeking behaviour.
4. Just say no
Your son wants a 12+, or 15+ certificate computer game for Christmas. He says all his mates have got it so it's fine for him to have it too. Or your daughter wants to go to town on the bus with her mates, but she's never been anywhere on her own before. They may act all big and cool, but you know they're not.
Tip:
You know your own child best. Only you know when your child is ready to go out alone, or whether they're mature enough to cope with computer games that are made for older children. So if you're at all unhappy, just say no. They may act all big and cool, but they're not. So lay down the law. The need to know their boundaries.
Warning:
If your child seems depressed, stops eating, falls out with their friends or refuses to talk to you, they may need expert help.
Continued below...
More help and advice
-
Talking to your child about puberty and sex
-
'My kids' hormones kicked in earlier than expected'
-
'I used Corrie to help with sex education'
- read one mum's story of how she coped with the change
-
Kidscape
-
Parentline Plus
-
Raising Kids