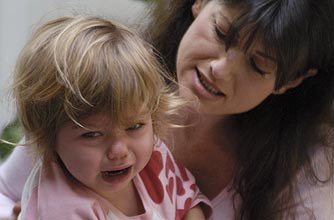 11. What about bribery?
Promising them a treat if they behave is fine from time to time, but don't make it your normal response.
12. Let them make choices.
Your toddler will be more likely to co-operate with you if they feel trusted. They need to make wrong choices to understand and learn through the consequences. So let them make choices about everyday things. For instance, they can choose what top to wear in the morning.
13. Whisper to them.
If they're being really noisy, sometimes talking very quietly yourself can help them as they try to listen to what you're saying.
14. Set a good example.
Children learn by copying, so show them that by being caring and polite yourself it not only helps others but gets a positive reaction from people too. It's fine to let your child see you upset, it's part of life and important that they recognise that, but try to avoid them seeing angry outbursts too often.
15. Give them lots of hugs and love.
Nothing beats lots of physical attention to make your child feel secure and loved, and don't forget to regularly tell them how much you love them.
Continued below...
- Getting your toddler to behave: Don't forget...
More on discipline
-
Child development stages
-
Tips on coping with tantrums
-
15 ways to be a (nearly perfect) parent