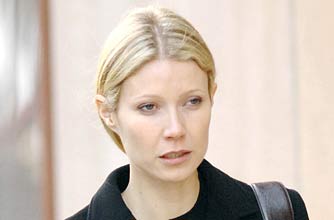 Actress struggled to cope after second child was born
Gwyneth Paltrow has revealed she experienced
postnatal depression
after giving birth to her son Moses 2 years ago.
'I felt really out of my body. I felt really disconnected,' she says.
'I felt really down, I felt pessimistic. I didn't know I had it until it was over.'
Gwyneth, 35, thinks it may have been caused by the stress of being a full-time mum.
'When I had Apple [now four], I couldn't bear the thought of leaving her,' she tells Vogue.
'When I work, I leave the house before the kids are awake. And I come home and they're asleep. So that's why, ever since having them, I've never played a lead in a movie.'
But now she tries to get a good balance between work and family life.
'I keep everything very simple,' she adds. 'I think the thing that drives most working mothers crazy is this idea that they can't do everything.
'But I find that as long as you're not depressed, if you simplify everything, you can do anything.'
Gwyneth is married to Coldplay star Chris Martin, 31.
Where to next?>/strong>



Continued below...



- What are the symptoms of postnatal depression?
- What causes postnatal depression
- What to do when you think you've got postnatal depression