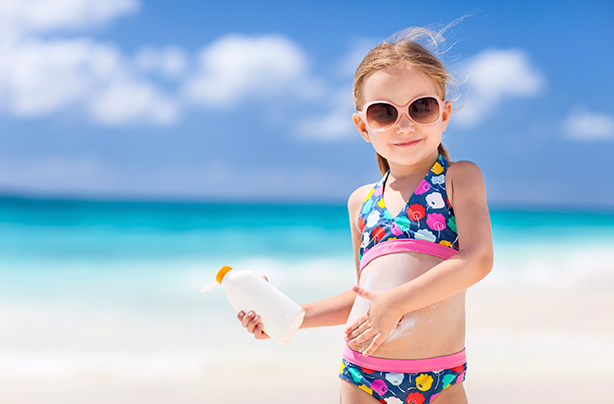 We all know that keeping our kids safe in the sun is important. But many of us are still getting suncare alarmingly wrong.
Celebrity mum Katie Piper even came under fire recently for her daughter's sun safety on Instagram, after posting a pic of Belle's scalp on holiday.
According to statistics from Boots Soltan, a shocking 42% of UK parents say their under 10 year olds have been sunburned, and 57% of parents don't reapply sun cream until their child starts to look pink, by which point, the damage is done.
The most common reason parents gave for sunburn in under 10s was that sunscreen wasn't applied often enough (34%), simply getting caught out in hot weather (31%) or not having sun cream with them (31%).
We talked to
Cancer Research
to get their top 10 tips for protecting kids in the sun.
1. Protect their scalp
Legionnaire style or wide-brimmed hats cut out around 50% of UV
radiation to the eyes, face and neck. It's a good idea to get babies and young children used to wearing a hat - they'll be less likely to resist when they're older.


It's also wise to remember to apply suncream to their scalp, like Katie Piper did to her daughter, Belle, when she had her hair styled in braids on holiday.
Some of Katie's Instagram users were quick to comment, with one writing, 'It looks very sore, is that dandruff? Don't let her scalp get sunburn.' Katie quickly responded, 'Belle is black Caribbean and has factor 50 sun cream on her scalp to avoid getting burnt'. Good on you Katie!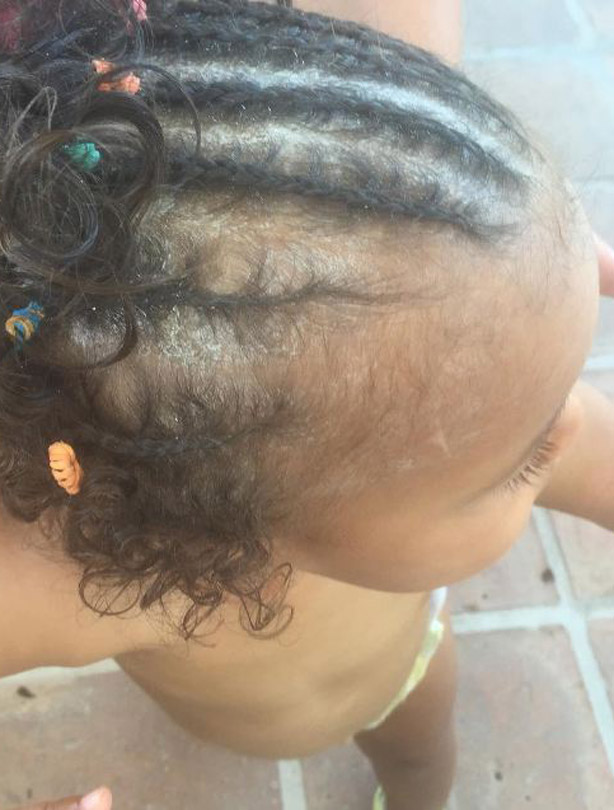 Katie Piper's daughter wears SPF50 on her scalp to protect her skin from the sun
Image: Instagram/katiepiper_
2. Cover up

On days out, put kids in T-shirts and wide-brimmed hats. At the beach or pool, take along a spare T-shirt in case the first one gets wet, because wet fabric lets through more ultraviolet (UV) rays.
Remember that wearing a T-shirt will provide moderate protection from the sun, but won't protect children from it entirely. It is possible to buy UVA protective clothing, the most effective of which claims to be equivalent to using an SPF50.
3. Use plenty of factor 15+ sunscreen
Go for the highest SPF you can find and make sure it's at least 15+ and preferably 30+. Put the sunscreen on 15-30 minutes BEFORE kids go outside, because it doesn't work immediately.


4. Keep re-applying the sunscreen
After the kids have first gone out, put more sun cream on 30 minutes later. That way you'll be less likely to 'miss a bit' and kids will be better protected. Then make sure you re-apply every few hours - especially after swimming or towelling - whether or not it says it's waterproof.


5. Pay attention to very little ones
Babies burn even faster than children and toddlers. No matter how much it might stop you doing other things, keep babies under 6 months out of the sun completely.


6. Invest in some shades
Encourage kids to wear sunglasses (eyes get sun damaged too). The best style is wraparound because they cut out more UV light and also offer a high level of UV protection.
Be warned: toy sunglasses can do more harm than good.


7. Buy a parasol for the buggy
They usually don't cost much extra, but the protection they give from the sun is worth far more.


8. Get under cover
You've heard of the song 'Mad dogs and Englishmen go out in the midday sun'? Well, don't try and copy it. On sunny days, try to organise outdoor activities in shady areas, and try to spend some time in the shade between 11am and 3pm.


9. Lead by example
Be a role model for your kids. Children will copy the behaviour of those around them, so if they see you covering up and putting on sunscreen, they're more likely to do the same.


10. Don't ignore the clouds
Just because it's not sunny doesn't mean you can't burn. The UV rays can still pass through the clouds and burn skin just as easily. Don't take any chances!


Continued below...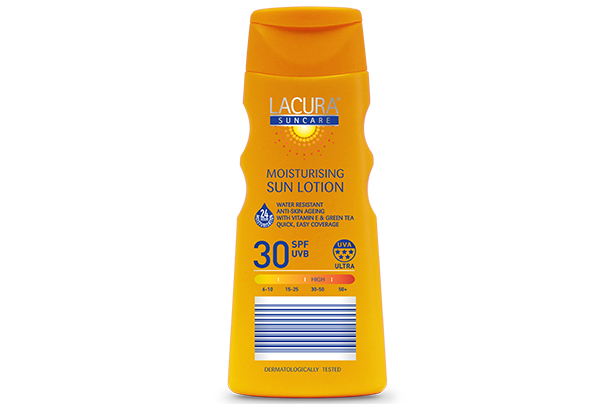 Skin cancer facts
There are two types of skin cancer: non-melanoma which is very common
and melanoma, which is less common, but more serious.
It's estimated that there are around 100,000 cases of skin cancer in
the UK each year, and 9,000 of them are melanoma.
Cases of melanoma are 4 times higher than the 1970s
Over the last 25 years, rates of melanoma have gone up more quickly
than any other major cancer
Melanoma survival rates are now among the highest for any cancer: 78%
of men and 91% of women are alive 5 years after being diagnosed
Around 2,300 people die from skin cancer every year in the UK