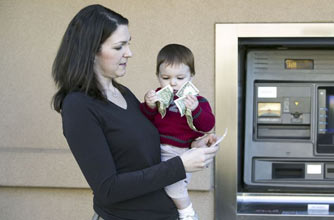 No reputable agency should ask you for money upfront. You've got to go with your gut instincts a lot of the time and always ask yourself what you're going to get in return for what they're demanding.
If something feels not quite right, then don't go with it - we're talking about your most prize possession after all (that's baby, not cash!).
Continued below...
Try to go with an agency that's been going for a while. Have a look at their website, does it look professional? If you make a visit to their HQ, assess what it's like. Is it the office of a successful business or does it seem like a bit of a back street operation? Ask them to show you examples of other babies they've got work for and don't let on that you're not in the know about how these things work.