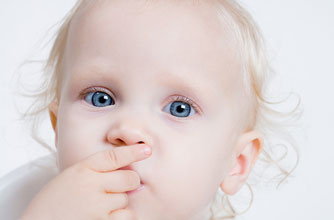 Once you've made contact you will usually be asked to send in a couple of snapshots of your baby with a few details about their age/height etc. These really do just need to be pics you've taken at home - nothing professional.
On the strength of this, if they like you, you and your baby will usually be called in for an interview or consultation day. The aim of the meeting is to see how flexible you are and how your baby reacts to being in a studio with bright lights and lots of people. They might also take some test shots to see how your baby looks on film.
Continued below...
This first meeting is as much for you as it is for them, you might find that your child really hates the environment and so you'll completely rethink the whole idea. It's also another really good opportunity to see what the agency is all about. Ask to have a look at their model book - if they don't have one it's a bad sign!