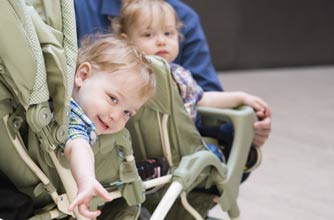 You
will
need to buy more stuff than you would if you were just having one baby but don't think because you're having twins, you'll need two of everything.
*
Sleeping
- When they're little, it might be easiest to get your twins down to sleep in two moses baskets that you can move around from room to room. If you'd rather get them sleeping in a cot early on, why not invest in a cot bed which is a bit bigger so should fit two of them in for quite a while and will save you forking out a big sum all at once.
If you've got the space, you could buy two small cots right from the start. The
Luca cot
from John Lewis is a good basic but sturdy buy and will only set you back £60.
*
Clothes
- If you're keen to dress your twins in matching outfits then you will need two of everything but otherwise, let them share. If you're expecting boy and girl twins, then try and go for neutral colours so you won't need a separate wardrobe for each of them. Little touches such as pink and blue hats or frilly socks (items that need washing less) can be good ways to distinguish between them and give them gender identities but without the extra cost.
*
On the move
- Car seats are an expensive buy and it's not something you can really scrimp on, unless you don't have a car. If you're planning a lot of overnight stays with the babies then a travel cot is useful but again, it'll probably be big enough to fit two in for quite a while so one should be enough.
*
Getting around
- The basic thing you've got to decide on when choosing a twin buggy is if you want your babies to be side by side or one behind the other and there are benefits to both.
Side-by-side twin pushchairs do tend to be a little bit cheaper and most are suitable from birth, but will also do for carting your twins around as toddlers. Some mums find them awkward because their width can cause problems going in and out of narrow doorways and carrying them up and down stairs. When your babies are a bit larger, they might also squabble more sat next to each other than sat apart where they can't poke and prod each other.
One-behind-the-other buggies eliminate the problem with narrrow doorways but they do tend to cost a bit more. You'll also need to check that both seats are suitable from birth because often the back is designed for an older child, and the front is for a newborn.
Continued below...
Useful online baby shops
-
Mothercare
-
John Lewis
-
Mamas & Papas