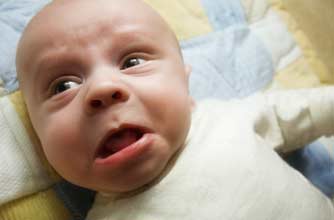 Remember, all children develop speech at different rates so although your child may not be speaking as much as their friends, that doesn't necessarily mean they have a problem.
Ear infections and or hearing problems may cause language delay, so make sure your health visitor carries out the relevant hearing checks.
As a general rule, your child should be speaking in sentences that match their age, so one word at the age of 1, two-word sentences at the age of 2, and three-word sentences at the age of 3.
Continued below...
However, it's important to talk a health professional if any of the following applies to your child:
Your baby doesn't listen to or respond to sounds
Your baby has problems sucking, swallowing or chewing
Your baby isn't using real words by 18 months
Your toddler has difficulty understanding what you say
Your toddler has an unusual voice and/or stutters
Your toddler isn't trying to make sentences by two-and-a-half years