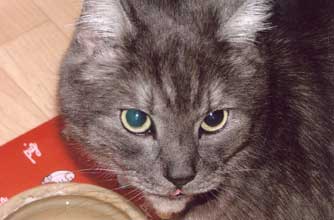 Meet Trotsky. He lives with his owner, Polly, in London. He loves nothing more than ripping up peppermint teabags and chasing pieces of tin foil.
Think your pet's better then Trotsky? Has he or she done something naughtier than pulling out an entire chicken from the fridge and eating the whole thing?
If the answer's yes, then
drop us an email
with a photo of your pet and the answers to the following questions.
- What's your name?
- What's your pet's name and age?
- What are their silly habits?
- What's the naughtiest thing they've ever done?
- What would they say if they could speak?
Continued below...
Come back here on Sunday to see if your pet made it into our photo gallery!