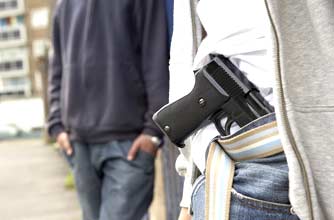 Violent youth crime has been hitting the headlines a lot recently. Often, seemingly unprovoked attacks from gangs of youths has left a series of teenagers dead or badly injured.
But it's not just London that's experiencing a problem with kids and crime.
Recent figures revealed that the number of children being convicted or cautioned has gone up by more than a quarter across the country.
Reported youth crime has increased by 27%.
Crime among the under-15s has soared by a third compared to just an 11% rise in adult crime.
Cheshire has seen under-18 crime rise 95% since 2002, and the same statistic in Sussex has risen by 90%.
But what do all these figures mean, especially when a lot of crime goes unreported? Are we only highlighting a small minority of young people, or is this a snapshot of a bigger picture that's actually much worse than we know?
Continued below...
We've spoken to the experts about what the reasons could be and what the possible solutions are.