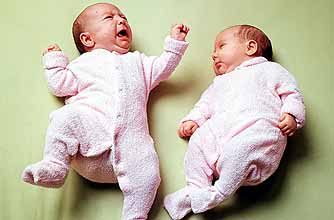 Raising twins isn't a walk in the park but neither is looking after one baby. You've endured the pregnancy and now, for the first time in months you can see your feet again. So what next?
Your two new bundles of joy will need feeding, bathing, changing and to get some rest (thankfully) but how will you cope with just one pair of hands? Can you feed twins two at a time? Won't they wake each other up at night?
Continued below...
Let us help you by answering all those questions that might pop up in your first year as a mum of multiples.
If you've just found out that you're pregnant with twins, first read how to
prepare for your twins.