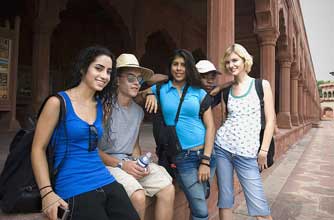 So they want to trek Macchu Picchu or go on safari in Kenya? The thought of it might turn your hair grey but there are ways they can live their dreams without the worry for you.
Organised trips
There are plenty of organisations that arrange trips for young people to do amazing things all around the world but with some sort of supervision.
So why don't all kids do these trips? Well, the appeal of a gap year for some is having no schedule and just being able to go wherever they want, whenever they want. Organised holidays are often quite routine but as a result the young people get a trip full of incredible experiences, with never a dull moment.
Travelling with the same group of people for a long period of time will also help them to make strong friendships that can be hard to do when flitting from hostel to hostel alone.
But there is a catch. As a traveller doing it alone, your child could spend a month in a country such as Peru or India and spend a fraction of the price of doing it as part of an organised trip. But is it worth you helping them out for some added piece of mind? That's something you'll have to work out.
The following are just a few companies that plan organised trips abroad:
Continued below...
-
Real Gap Experience
- from adventure packages to volunteering and teaching.
-
Quest overseas
- Fun and conservation trips to Africa and Latin America.
-
Outreach International
- 3-6 month projects in South East Asia and South America
-
Gapyear.com
- Worldwide trips from ski seasons in Val D'Isere and activity centres around Europe to wildlife conservation in Africa and orphanage work in the Himalayas.