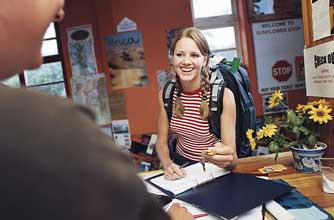 If they're just not interested in organised trips and are determined to plan the whole thing themselves then there are things you can do together before they set off to avoid them coming a cropper.
Accommodation
The beauty of your teen arranging the whole trip themselves is their plans are able to change as they go along. From the comfort of your living room they might plan to spend 2 weeks in Sao Paulo but on arrival, absolutely hate it, so head off somewhere else straight away.
With this in mind, it might not be wise for them to book all of their accommodation before they leave but try and do it one city ahead while they're away. The Internet is so widely available these days, they shouldn't have trouble doing it this way.
This said, you should make sure they have their first few nights accommodation booked at their first port of call. In fact, don't let them leave home without it! Once they've got into the swing of travelling they'll have no trouble just stumbling across bargain beds but there's nothing worse than arriving in a new city, far from home and not knowing where to start looking for somewhere to stay.
'I remember getting off the plane in Bangkok with this ridiculous safety-cage over my backpack, pasty white skin and kitted out in Millets' finest. After being ripped off by the cabby and being dumped somewhere near the Koh San Road I wished more than anything that I'd booked somewhere nice to stay for my first night.

I've never felt like such a tourist and so vulnerable in my life, but an English woman spotted me from a mile off and came and told me where to go. Next time I might fake tan before I leave - and book my hotel first!'
Sarah McGrady, 21, London
Insurance
25% of young travellers are still travelling uninsured according to Gapyear.com. Insurance is one the most important things your child needs to do before they leave because if they have an accident while they're away, the medical bills could amount to the cost of your home - or more.
Here are three insurance providers that are great for gap years:
Continued below...
-
Insure and go
-
STA Travel
-
American Express