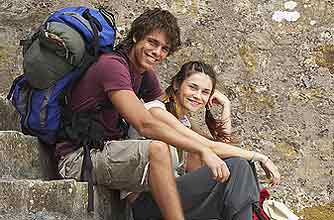 The best advice you can give them is to take as little as possible.
Luggage
For a backpack, it's worth going into the store and trying a few out. In somewhere like
Millets
or
Blacks
, staff should be trained to fit them properly and give advice on which are best for your teen's size. One that opens out like a suitcase is definitely worth considering as it just makes packing and unpacking that bit easier when moving from place to place.
When going into travel shops you'll be presented with vast amounts of products that you could buy and would probably fill up most of their backpack but don't get carried away.
First aid
They will definitely need a first aid kit and it's worth forking out for a good one. Whether you choose one with sterile syringes in is up to you but it could be worth an extra fiver, depending on where they're going.
Washing
A
travel towel
will also save a lot of space in their backpack and a travel plug and washing line (or just a bit of string) can be handy for washing clothes.
But realistically, just because your child is going abroad doesn't mean they'll be away from all amenities. Unless they're planning to go completely off the beaten track, water purifying tablets are rarely necessary, as bottled water is so widely available. Launderettes are also often incredibly cheap so they may just pay to get their clothes washed instead of taking stuff to do it themselves.
Sleeping
If they're going to be in hot climates for all of their trip, then they won't need a sleeping bag. A liner should do the trick and a silk one will keep them especially cool, but are quite pricey.
Continued below...
Insects
Consider if they need a mosquito net. They are big and bulky and often hard to put up in the room if there's nothing to tie it to. In somewhere like Thailand, most places they will stay will have them already so it could be something they don't bother with. Mosquito spray on the other hand is a must, along with tiger balm or after bite.