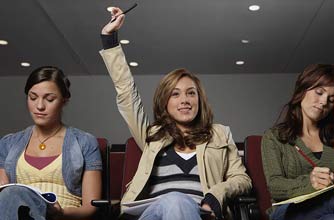 In this year out of education, your child will do an enormous amount of changing. If they're working they'll learn how to manage their money and understand, maybe for the first time, the benefits of working hard and start to think about what they want to do with their lives.
Even if they spend just a few months in a job they hate, it won't be wasted. It might motivate them to ensure they're not back there in five years time by studying more, or choosing a career path they want to move down.
If they're off to university the difference in them and a school leaver is bound to be immense.
Dr Barry O'Shea, a lecturer at Portsmouth University says:
'I have had some older (twenty-something) students and they do seem to be that much more mature. Older students tend to be more confident about actively taking part in seminars and tend to be more focussed and have clearer ideas of what they want to do, so they tend to be much more choosy about what they study.I've never experienced a downside from any students having a year out before starting university. My slightly older students have submitted excellent work.Sometimes it may the best thing for a student to have a year out, broadening the mind or simply spending a year building up some cash for uni. It can also make them more independent, especially if they have to cook, shop and wash for themselves!My own son, James, now 25, took a gap year before starting his undergraduate course. He's now doing a PhD in chemistry at Bristol so clearly the experience didn't do him any harm.Would I suggest taking a year out in all cases? No. It depends on the student in each case and it should be their decision. They can always apply for deferred entry so that a university place is waiting for them after their gap year. For others, it is a natural progression and they are more than ready for university life without a gap year.'
Continued below...
Where to next?
-
How to teach kids the value of money
-
Top finance tips for university
-
Why should your child go to university
-
Help your teen to get a job
-
How to live with teenagers