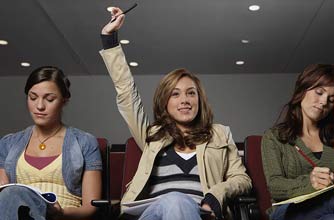 Diploma grades will be aligned with GCSEs and A-levels and are split into the following categories:
Foundation: It's the equivalent of five grades D-G in GCSEs and takes the same time to do as four or five GCSEs


Higher: Worth seven grades A*-C and takes the same time as five or six GCSEs


Advanced: Worth 3.5 A-levels and takes the same time as three A-levels


Progression: Aimed as those who can't complete a whole Advanced Diploma, it takes the same time as two A-levels.
Ucas
(university admissions service) says the new Advanced Diplomas are the equivalent of more than three A-levels (in university entrance points).
What problems could diplomas bring?
Diplomas will mean that teachers have to flexible and could have to learn new skills. There could also be problems with getting pupils to the classrooms if their diploma needs a different setting from the usual school. Then there's health and safety, the difficulties of timetabling it all and the costs.
Ask your school if they're or will be offering diplomas - your child may not be entitled yet as some don't officially come into force until 2013.
You can learn more here
.
Continued below...
Related links
- Get the facts on
Key Stage 3
and
Key Stage 4
-
9 reasons to send your child to university
-
The parents' guide to exams
-
4 ways to turn failure into success
-
Help your teen to get a job