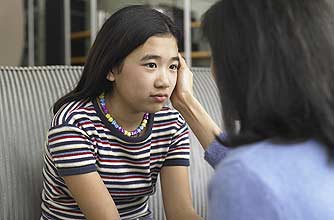 Continued below...
The dos
Try to get each child on his or her own and out of earshot of the others. This should be one-to-one or two-to-one (with both parents there) if possible, so that they feel free to ask questions and have your complete attention.
Be loving an affectionate - recognise and accept their pain (but don't anticipate or encourage it if it's not there)
Reassure them that you'll both stay part of their lives
Promise them that you'll never stop them seeing and spending time with each of their parents
Be prepared to answer their questions and also for their refusal to talk about it
Be ready to come back to the subject when they're ready
Make what you say age appropriate
Be there for them: choose a time when you don't have to rush off to do something else
Let them be by themselves if they want to be: some children will want to grieve in private before they're ready to talk to you
Be as honest as you can be with them. It's good to let them know you're upset but try to cut out the bitterness you feel
More help and advice
-
Tips for dealing with separation
-
How to survive a break-up
-
Divorce - what happens next?
-
Parentline Plus' tips on coping with divorce and separation