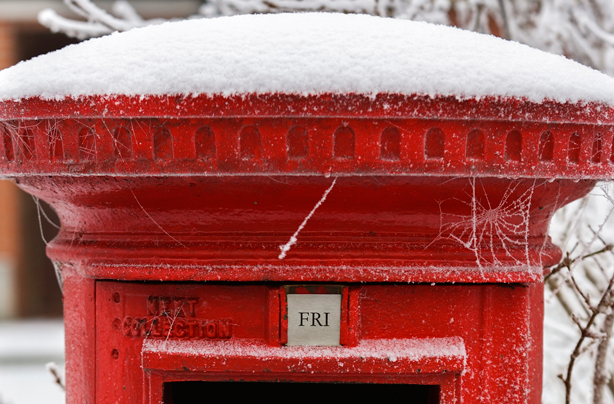 Make sure you know this year's Christmas posting dates below so you can be sure your gifts get off in plenty of time.
Bear in mind that some post could be affected by bad weather - so if you can get your cards and parcels in the post early, it's worthwhile!
Recommended UK last Christmas posting dates 2015:
UK Special Delivery: Wednesday 23rd December
1st Class & Royal Mail Signed For 1st Class (UK): Monday 21st December
2nd Class & Royal Mail Signed For 2nd Class (UK): Saturday 19th December

Recommended international last Christmas posting dates:
Western Europe: Tuesday 17th November

Eastern Europe, Cyprus & Greece: Tuesday 3rd November
USA, Canada, Finland, Sweden: Tuesday 15th December
Czech Republic, Germany, Italy, Poland: Monday 14th December
South & Central America, Caribbean: Tuesday 8th December

Africa, Middle East: Friday 4th December

Asia, Cyprus, Far East, Eastern Europe (except Czech Republic, Poland and Slovakia): Monday 7th Decemeber
Australia, Greece, New Zealand: Thursday 10th December

Austria, Iceland, Ireland, Portugal, Spain: Wednesday 16th December
France: Thursday 17th December
Belgium, Denmark, Luxembourg, Netherlands, Norway, Slovakia, Switzerland: Friday 18 December


Christmas cards
Christmas stamps, featuring all sorts of festive scenes from the Nativity story, are on sale at Post Office branches and on the Royal Mail's website. They include letter and large letter stamps.


63p 1st class letter: For the majority of Christmas cards (under 100g)

95p 1st class large letter: For large or bulky Christmas cards (under 100g, between these sizes: Length 240-353mm, width 165-250mm, thickness 5-25mm)

54p 2nd class letter: Suitable for the majority of Christmas cards (under 100g)

74p 2nd class large letter: For very large or bulky Christmas cards (under 100g, between these sizes: Length 240-353mm, width 165-250mm, thickness 5-25mm
Delivery dates
Want to make sure you're in to get last-minute present deliveries? Here are the delivery dates for Christmas 2014.

Tuesday 22 December normal deliveries
Wednesday 23 December normal deliveries Thursday 24 December normal deliveries
Christmas Day no deliveries
Boxing Day no deliveries
Sunday 27 December no deliveries Monday 28 December no deliveries
Tuesday 29 December normal deliveries
Wdnesday 30 December normal deliveries
Thursday 31 December normal deliveries
New Year's Day no deliveries
Saturday 2 January normal deliveries (excluding Scotland as it's Bank Holiday)
Sunday 3 January no deliveries
Monday 4 January normal deliveries


Postcodes
If you don't know the postcodes of your nearest and dearest, then don't worry - Royal Mail has a handy
postcode checker
online. All you need to do is type in the first line of an address and it'll generate a postcode for you.
Branches
To find out your nearest Post Office branch and its opening hours, visit
postoffice.co.uk
or ring 08457 22 33 44.
Letters to Santa
Did you know that there is a real address for Santa Claus?
Download our FREE letter for Santa
and and then kids can post their letters off to Santa with a stamp to:
Father Christmas,
Reindeerland,
SAN TA1.
Get it sent off by the 6th December 2015 and you should get a response!
What postal service should you use?
For valuable or last-minute Christmas gifts and cards, Royal Mail's Special Delivery next day service is the best and prices start from £6.22.


Airsure postal service takes mail from the UK on the first available flight to 35 countries worldwide. It then receives priority handling abroad and items are electronically tracked on their way to their destination. Prices start at £5 plus airmail postage.


International Signed-For means items are signed-for on delivery and receive a quick dispatch from the UK. Prices start at £5.30 plus airmail (or surface) postage and the service is available to most countries worldwide.


Visit Royal Mail's 'delivery options' for a full range of Airsure and International Signed-For postal services.


Parcelforce Global Express postal service offers fast, international delivery across the world from next working day, and the Scheduled service takes from 3 working days. It's available to 240 countries worldwide, and are both a good choice if you're sending valuable and treasured items abroad.


Global priority (to Europe) and Global economy (rest of the World) are cheaper alternatives, and the best options if you're more bothered about cost than speed.


For surface mail latest posting dates, which vary depending on the destination, visit parcelforce.com.


In the UK, Parcelforce 48 delivers within 2 working days, Parcelforce 24 is for next working day delivery, and there are three premium-rate time-guaranteed services: by 9am, by 10am and by noon. Prices vary according to weight



Continued below...




Check on royalmail.com for updates on specific countries, to download postal service prices and for full information about services.