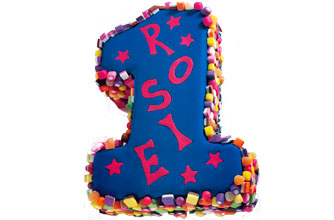 The sweet stuff
Fruit:
Grapes are usually a big hit with kids. They're also easy for you, as they're portable and there's no peeling involved. Bananas are also very popular.
Cakes:
Fairy cakes
work well and you can theme them quite easily. Mini chocolate rolls and marshmallows are also popular.
Biscuits:
if you want to make your own
cookies
or
biscuits
, they can be quite easy to theme or make that little bit different.
The drinks
Juice:
individual cartons are a good bet. They may cost more, but they're more convenient and there's less likelihood of spillages.
Water/squash:
plastic or paper cups are advisable
By all means go for fizzy drinks, but remember it usually makes kids even more hyperactive and overexcited than normal and it's very, very sticky if it gets knocked over.
The cake
If you don't want to buy a ready-made cake, it's not too difficult to make and theme your own
birthday cake
.
Make your own
sponge cake
or buy a plain one from the supermarket and then decorate it yourself.
You can buy ready-made icing in different colours and also icing pens which makes it easy to put writing and designs on your cake.
- Back to the Party Planner home page
Continued below...
More help and advice
-
40 ways to entertain the kids
-
Fun kids recipes