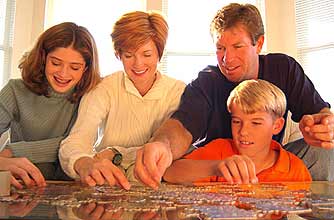 Continued below...
If you've already got children, either together or from previous relationships, there's plenty you can do to improve the dynamic within your established family.
Make a conscious decision to notice your kids' successes. This is an effective but simple skill, and it helps establish house rules in a positive way. For instance, you could say, 'I really liked the way you played quietly while Mummy chatted to Grandma,' or, 'Well done for coming in for tea when I asked you to.' We tend to criticise our kids in an effort to encourage good behaviour, but the real secret is to praise great behaviour whenever it happens and ignore unimportant slip-ups.
Increase your child's self-esteem and happiness by looking out for problems before they happen, then talking them through with your child one-to-one. If your 4 year old wants to choose his own clothes but doesn't know where things are kept, step in before he loses his cool, and say, 'Of course you can dress yourself. You'll find shorts in the bottom drawer and T-shirts in the cupboard.' This helps give him confidence in himself as well as in the fact that talking to you about his problems really does help.
Adjust how you perceive and react to situations, especially when things aren't going well. It can do wonders for boosting all-round positivity. If a family outing got off to a bad start because of a delay in leaving home, don't blame each other for time-wasting. Instead, saying something like, 'Oh well, these things happen, but didn't we have a fantastic time once we got there?' You'll also be teaching your kids to see the bright side of a less-than-perfect situation.