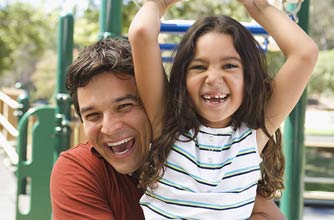 1. Nurture the relationship with the mum:
'If mum feels happy and good,' says David Bartlett, 'then it will rub off on the child and help the development of the child immensely.'
2. Get stuck in:
'It's important that dads get their hands dirty, as it were, early on,' says David Barrett. 'Patterns are set very early in a child's life, so make sure
dad has his responsibilities
. He may not be able to breastfeed, but he can change nappies or do bathtime.'
3. Give them time:
'Think back to your own favourite childhood memories and they won't be about a present, but of time you spent with someone,' says Rachel Morris. 'Presents aren't important - giving children your full attention is. Try to manage 2 hours a week and remember it's not about helping them with homework, but actual spending time with them being involved with them.'
4. It's what you do, not what you say:
'Remember you're a role model to your kids,' says Rachel Morris. 'Daughters grow up wanting to find a man like their dad, while boys grow up wanting to be their dad. They'll pick up on all the behaviour you hate about yourself, so be careful.'
5. Talk to your partner:
'Communication isn't just important for your relationship,' says David Bartlett. 'You need to work as a team to help your relationship with your kids. It's easy for dads to feel jealous, at a loss and left out, so you need to talk about things. Share your fears and expectations - mums are just as likely to be worried and nervous.'
6. Say sorry and get it wrong:
'Being humble and vulnerable are great traits,' says Rachel Morris. 'Boys will feel less inadequate if they know their dad doesn't always get it right. And tell your kids you love them and praise them as much as you can.'
7. Listen to your children
'As they get older, allow them to be heard,' says Rachel Morris. 'It will make them feel important and boost their own self-confidence.'
8. Look after yourself:
'Make sure you're both mentally and physically happy,' says David Bartlett. 'Men can quite easily get isolated and stressed and are prone to post-natal depression as much as women with a new baby. Sadly, it's less likely to be picked up in men.'
Continued below...
More help and advice
-
Tips for dealing with separation
-
How to mend a broken relationship
-
Child development milestones: what to expect when