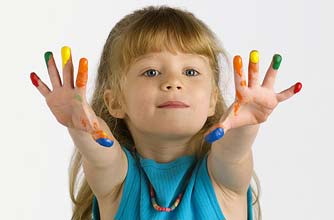 11. Paint
Ages 2-8. A great way to structure play.
As long as you're prepared, getting your kids painting isn't quite as scary as it sounds.
Make sure everyone involved has some sort of art shirt so they don't splash paint on good clothes.
Then you'll need to put newspaper or a protective mat on the table and floor to catch those stray paint drops.
To give them some structure, why not get them to paint some cards or pictures that granny, granddad or other friends and family would like. You could even put the finished product in a frame afterwards and give them as presents.
If your kids want even more inspiration, then try
Art for Kids
- a new website with lots of free information and events in your area.
Continued below...
Go back to the start:
Free fun for kids