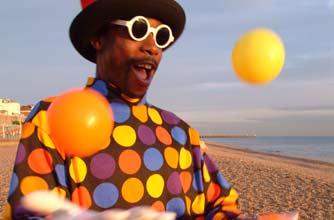 14. Learn some circus skills
Learning to juggle, ride a unicycle or spin plates captures the imagination of most kids, so why not let them try for real.
There are quite a few groups in England that now run circus skills courses - perfect for all budding clowns. Try
Youth Arts Online
,
Circus Arts Forum
or
Circus Space
to find courses near you.
Continued below...
-
Free fun for kids 1-5
-
Free fun for kids 6-10
-
Free fun for kids 16-20
-
Free fun for kids 21-25
-
Free fun for kids 26-31