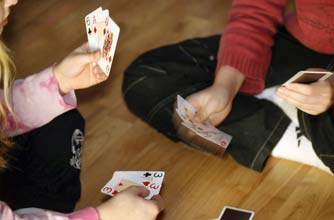 19. Play cards
Ages 4-12. Games you can develop and play again and again.
You can lose hours playing cards with your children, and the great thing is there are games for kids of all ages.
For very young ones, pairs and snap are really popular and older kids will really enjoy the more complicated rules of blackjack, gin rummy and solitaire.
This site gives you loads ideas of card games
you can play with the kids from little ones right up to teenagers.
Continued below...
Go back to the start:
Free fun for kids