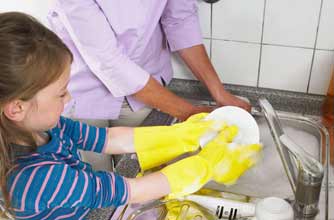 24. Get them to help with the housework - no really!
Ages 3 and up. Teach them some live skills.
Create a system of reward tokens. Free things you know your kids love and consider treats. An extra story at night, their favourite DVD, an extra hour up past their bedtime...
Write out the vouchers and leave the in a bowl.
Create a list of household chores you'd like them to do. Make the rules clear as to what needs to be done in order for them get a reward token.
You'll have the house gleaming from head to toe in no time, and you'll be surprised how much fun they have helping you out.
Continued below...
Go back to the start:
Free fun for kids